Division
Learning Intention
We are learning about division with remainders.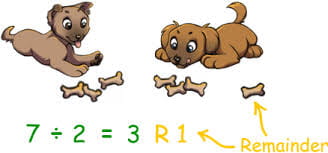 Success Criteria
You will know you have been successful when you can:
# Identify the answer and remainder to a division problem.
#Solve division problems (with a remainder) 75% accuracy
_____________________________
Watch the Powerpoint Presentation for division with remainders.
division-with-remainders-presentation
2) Working with the teacher (whiteboard)
3) Online division problems to work out.
Division with remainders – online
4) Independent Practise
Independent Practise – Division
Extension:
Watch the video first.
Use whiteboard and do same video with teacher.
Have a go at doing one of the division problems.
Write in the comments section what you learnt in maths today.